This WordPress website design features numerous custom additions, and has many features and plugins added, such as Adsense and Google Maps. The Undead Report is a site about zombies, zombie culture, zombie games and surviving the undead apocalypse.
Custom visual and code treatments are applied to category pages, Flash game pages, and even user comments.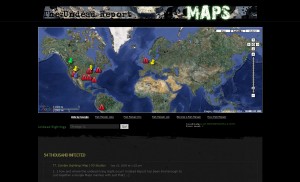 Full Disclosure: Sam Perkins-Harbin (Forge22) owns and writes for this blog.